Have you been injured on the job? We are here to help.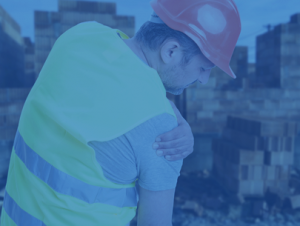 If you haven't already, notify your employer of your injury as soon as possible. Your employer should already have a procedure in place for documenting the injury and getting you the appropriate medical attention.
In Utah, there is a 180-day time limit to report your work injuries to your employeer.file a Workers' Compensation claim in Utah. That seems like a long time, but if you wait even a few weeks to file your claim, it may be too late to build a case. Insurance companies – and sometimes employers – know the best ways to argue against a work injury claim or reduce the amount paid out. Just like after a car accident, it's important for a lawyer to collect all the proper evidence, medical records, and eyewitness reports in a timely fashion.
Contact us right away so we can fight for what's rightfully yours. Let us get started on getting you your Utah Workers' Comp benefits as soon as possible.
To schedule a consultation with one of our attorneys,
please give us a call at 801-424-WORK (9675)
Get King & Burke on your side.
When it comes to workplace injuries, there are a lot of people and entities that could be liable for the accident. This includes the owner, any contractor on the project, or the manufacturers of the equipment that caused the injury.
If you or a loved one has been injured in a work accident, it is important to seek medical attention as soon as possible. Report this injury to your employer, and be sure to provide any evidence when making a claim (i.e., medical examination records, witnesses to the accident, photographs of the hazardous conditions, etc.) Lastly, contact a responsible attorney to walk you through your legal options.
We offer confidential, complimentary consultations for anyone who has experienced work-related injuries. If you or your loved one has been injured, call our offices today to ask a question, or schedule your meeting with us.
Workplace Safety Regulations, Hazards, and Standards
Did you know that 1 in 5 workplace deaths occurs in the construction industry? This is the highest rate out of all of the other industries in the United States. Who is the most at-risk?  The following construction workers are the most at-risk of injury each year:
Carpenters
Electricians
Roofers
First-Line Supervisors
Construction Laborers
The ten most cited violations as stated by the Occupational Safety and Health Association:
Fall Protection
Hazard Communications
Scaffolding
Respiratory Protection
Powered Industrial Trucks
Lockout/Tagout
Ladders
Electrical and Wiring Methods
Machine Guarding
Electrical and General Requirements
Numerous repercussions can occur as a result of violating safety regulations. While some injuries can be more severe than others, it is important to know the risks and abide by all safety codes to avoid injury or death.
Possible injuries that can occur from accidents in the construction industry are:
Amputated or decapitated limbs
Back or neck injuries, that may cause permanent damage
Spinal cord injuries, which can lead to paralysis
Blindness
Deafness
Brain Injury or Damage
Long-term impairment that can result in the inability to work
Death
Utah Workers Compensation Lawyer
Committed to the working people of Utah, we specialize in the practice of Workers' Compensation law. You can trust our team of experienced professionals to help you with your work injuries. Navigating a workers compensation claim can be tough on your own which is why it's so important to have an experienced workers compensation lawyer at your side. For unrivaled experience and results, King & Burke has got you covered.
Injured at work?
If you have need of our help in the area of Workers' Compensation Law, please begin by completing the Workers' Compensation Case Questionnaire, and we will get in touch with you promptly.

Request a
Free Consultation