Social Security Disability
Utah Social Security Attorney On Your Side.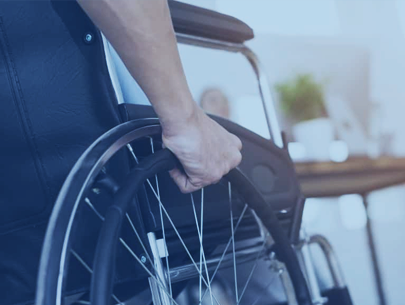 Although most people don't think they'll end up suffering from a disability, the chances of becoming disabled are much higher than most people think. More than one in four 20-year-olds will become disabled before age 67, according to several studies. Sadly, the majority of working individuals are unprepared financially to face the negative effects associated with a disability.
To schedule a consultation with one of our attorneys,
please give us a call at 801-424-WORK (9675)
What is Social Security Disability?
If a mental or physical disability is preventing you from working, you may be able to get help through the Social Security Disability Insurance (SSD) program. One of the largest federal programs providing help for people with disabilities, the SSD program can be a source of much needed financial assistance for you and your family.
Our SSD attorneys at King & Burke understand how emotionally, physically, and financially hard it can be to deal with a disability. We have helped numerous disabled individuals throughout Utah navigate the challenging Social Security program to get benefits for basic living expenses and medical bills.
What You Need To Know Before Filing for Social Security Disability (SSD)
You must have enough work credits to qualify for SSD.
You must not be currently participating in substantial gainful employment.
You must be suffering from a "severe" medical condition, either mental or physical.
Your medical condition must be found on the list of disabling conditions.
You must not be able to sustain ordinary work duties.
Utah Social Security Disability Attorney
At King & Burke, our experienced disability attorneys know you probably have a lot of questions about getting benefits. They can provide answers to your pressing questions; so don't wait to schedule a free case consultation. We are well versed in the application process and can make sure your application is submitted correctly and on time.
When you call 801-424-WORK (9675), we will arrange a time for you to speak one on one about your filing.
Injured at work?
If you need our help in the area of Workers' Compensation Law, please begin by completing the Workers' Compensation Case Questionnaire, and we will get in touch with you promptly.

Request a
Free Consultation