Utah Vehicle Accident Attorney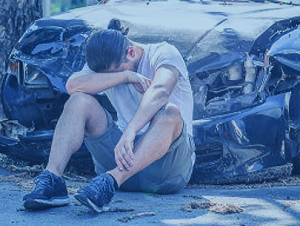 We're ready to answer all your questions about your car accident, big truck accident, motorcycle accident, rollover accident, any kind of vehicle accident. Your injuries may be life-changing, even life-threatening. We take care of all the medical, financial and insurance questions you have while you concentrate on the road to your recovery.
To speak with one of our attorneys,
please give us a call at 801-424-WORK (9675)
Common Vehicle Accident Causes
We have hundreds of road-related laws in place to prevent accidents from taking place, and yet there are still hundreds of thousands of car accidents across the United States each year. Accidents may be caused for any number of reasons, but the vast majority of accidents share a few common causes:
Distracted driving. One of the most common causes of car accidents today is simply not paying attention. This problem has only increased with the growing popularity of mobile devices, though distracted driving can take on many forms, from eating in the car to putting on makeup while behind the wheel. Teens can most often fall victim to distracted driving.
Driving under the influence. An astonishing one in three fatal accidents in the United States involves drugs or alcohol. Driving after drinking slows your reaction times and coordination even after you've only had a drink or two, and driving after more is both illegal and extremely dangerous.
Speeding and reckless driving. Speeding is a factor in a large number of fatal crashes, especially because the faster you go, the greater the force of the impact. Young males are the most likely drivers to speed, drive recklessly, or engage in street racing.
Improper turning and intersection violations. Many accidents take place at intersections: drivers ignore stop signs or stoplights, turn in front of other drivers, or strike pedestrians in crosswalks. Making a left turn in front of oncoming traffic is not only one of the most common causes of accidents, it can also result in serious injury.
Drowsy driving. Driving while tired can be just as dangerous as driving drunk, and most accidents take place when drivers are sleepiest: very late at night and very early in the morning. Always get off the road if you are nodding off at the wheel.
Road conditions. Some accidents are caused by rain, snow, or ice on the roads. Others are caused by the roads themselves, which might have construction, potholes, or other issues. Road conditions can be a danger especially when paired with other causes of accidents, such as speeding or distracted driving.
Poor road design. In some cases, accidents can be the result of a road design issue: poor signage, dangerous intersections, or confusing exchanges. In these instances, the municipality may be responsible for the accident, especially if similar accidents have taken place in the past.
Defective auto parts. A significant number of car accidents and injuries are due to defective auto parts: electrical issues, bad tires, defective airbags, or bad breaks. Other accidents could be the fault of the mechanic who worked on your car.
Common Vehicle Accident Injuries
Because of the powerful forces involved in car accidents, injuries can be serious and can cause lifelong disabilities. Even minor injuries may rack up significant hospital bills that the other driver should be responsible to compensate. While car accident injuries can take on a wide range of forms, some of the most common car accident injuries include:
Head injuries, including concussions and traumatic brain injuries.
Neck, back, and spine injuries.
Shoulder injuries.
Soft tissue injuries.
Fractures and bone breaks.
Internal injuries.
Knee, leg, and ankle injuries.
It is important to understand that if you can prove that another party was at fault for your injuries, they are responsible to cover your injury-related medical bills. This includes both past bills, which covered the immediate medical help after the crash, as well as future medical bills, which might include corrective surgeries, physical therapy, or ongoing needs for medication.
Here at King & Burke, we have obtained substantial recoveries for injured victims and their families incatastrophic injury and wrongful-death cases.  More importantly, we have earned the trust of our clients and our colleagues around the legal community, many of whom have recommended us to family and friends who have suffered serious injuries.
We are committed to protecting your rights and assisting you with every aspect of your claim, from initial investigation through settlement or, if necessary, trial and appeal. We understand the importance of being accessible to our clients, and we believe in giving each client our personal attention, keeping you informed and responding quickly to your questions and concerns. We also have an experienced in-house support staff, including paralegals with over 20 years of experience, let us help you too. To speak with one of our attorneys, please give us a call at 801-424-WORK (9675).
Injured at work?
If you need our help in the area of Personal Injury Law, please begin by completing the Case Questionnaire, and we will get in touch with you promptly.

Request a
Free Consultation